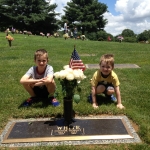 Today would have been Connor's first birthday and also marks 6 months since he passed away.  Beth, Hayden, Noah and I are sitting on the beach in Ocean City, Maryland reading posts from family, friends, friends of friends and even people who have never met us.  The kindness and support we've received from everyone has been genuinely appreciated and made our lives just a little bit easier.  The unconditional love from Hayden and Noah has reminded us every day how lucky we are.  While the pain and sadness is with us every day, as those who have lost children already know, we may have our emotions in check and manage them better most days, but it doesn't get any easier.  
Before we came to the beach, we visited Connor and took this picture of him with his brothers.  Not the birthday picture any parent wants to take, but if it reminds us all of anything, it's how precious life is.  Don't take life for granted, enjoy every day and never forget the GOOD things you have in life.   It is so easy to just focus on what we do not have, but when we look at what we do, our cup runneth over.  Everyday we think about the good things as it keeps us going.  Hayden, Noah and Connor are those good things for us and we will always appreciate them for the happiness they bring us everyday.  We love them more than they will ever know (but we'll keep telling them!)
In addition, there are many wonderful foundations to support pediatric cancer in different ways.  We want each of them to know that we would like to create a network and work together.  Here is an incomplete, but growing list and if you would like to be added, please let us know (I will add later).
Thank you again to everyone for all of your help and support.